My breeding guidelines
At the moment I have only bred two litters of buhunds and my first buhund is 12 years old. Through the years my thoughts about breeding have developed. I emphasize natural feeding, safe growing enviroment and soft training methods. When choosing the mating combinations I aim for health, balanced build and nice character.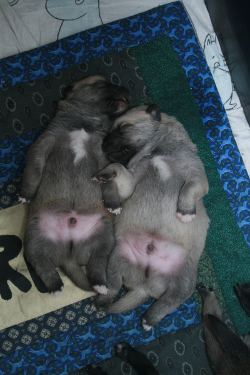 I always try to see the dog as a whole, with its pedigree and possible progeny. You have to know something about the relatives to know more about a certain dog. The genetic makeup is always inherited from the parents and the parents have inherited their genetics from their own parents etc.
The number of buhunds is low and this sets some challenges to the breeding. There is always going to be some inbreeding, zero-% is impossible for buhunds when you go far enough to pedigrees. Also you have to compromise often. One or two small errors are not a reason to leave a buhund out of breeding. Breeding only perfect dogs will lead to population bottleneck.
I want to avoid this by always looking for the dogs that have not been used too much.
I don't look for show titles in a dog. I look for a nice, buhund-like, balanced build. A dog like this might have show-titles or only Very Good without any Certificates or placements.
The colour is completely secondary feature. I like sable, strongly red-pigmented, masked buhunds with strong counter-shading. But rarely you can choose a mating partner just by colour.
I want to raise the puppies in a safe enviroment with natural food. Puppies need a lot of outdoor activities, exercise in different terrains, playing with each other and safe adult dogs and of course high-quality food. I don't think industrial dog-kibbles with all the food additives are good food for the puppies. When dogs are puppies they build a base for a healthy life and right growth. Raw-feeding or partly raw-feeding puppies creates a healthy gut flora and leaves the intake of harmful food additives to minimum.
Because most of the future homes are going to feed kibble, the puppies will also be familiarized to high-quality puppy-kibble before moving to their new homes.
I won't be intervening with the lives of the new puppy-owners without them asking. Apart from half-owned puppies or puppies placed on breeding terms the puppies are always completely owned by their new homes and I don't have a right to tell what to do with them.
Puppies leave my home with a set of instruction for feeding and training and everything I can tell of the pedigree and the puppy itself. When asked, I will give advice according to my own ideologies but won't tell anyone they have to clicker-train their dogs if they don't want to. Or feed a certain brand of kibbles.
I encourage everyone to be open with anything related to their dogs. Health problems or bad character traits should not be private information only shared by few people.
So please do ask my advice if you think you need it and I more than love to hear greetings, but I won't be telling you're a bad owner if you don't want to be in touch with me.
When asked about my litters, I will tell everything to my best knowledge. I can tell why I'm making a certain mating and go trough the character, health and pedigree of the parents.
I always sell a dog to only be a pet. I can't give promises the puppy will win shows, get competition placements or be fit for breeding. I can choose the most promising puppy for desired hobby or use but I can't guarantee it will grow to be what it is wanted to be. Buhund is a true "country-dog". It's not bred to be an agility winner and it might not have the motivation to get placements in the higher classes of obedience. It will probably do things happily but it's not always enough to be a champion
I use the official contracts of Finnish Kennel Club and the possible additive terms I will send for you to see if you're thinking about getting a puppy from me. This way there will be no surprises for you when it's time to come get your puppy and sign the contract.
I have also undersigned the new breeding contract of Finnish Kennel Club and accomplished their official breeder's course.
The price of my puppies is about 1200€. Results or success of parents will not affect the price but other things might.